Driving is as much an experience as it is a necessity. You should enjoy how your ride feels, how it looks, and even how it sounds. That last piece can be a challenge, because cars come with a fair share of noise, from structural hums, rattles and squeaks to airborne sounds like wind, road noise and horn honking.
You may be considering soundproofing your car but are wondering does sound deadening works? The answer is yes, fortunately there are some great products to improve your driving experience (and they don't involve earplugs). They're called vibration dampers and a question we get all the time is, do you go with the mats or with a sound deadening spray?
Driving is as much an experience as it is a necessity. You should enjoy how your ride feels, how it looks, and even how it sounds. That last piece can be a challenge, because cars come with a fair share of noise, from structural hums, rattles and squeaks to airborne sounds like wind, road noise and horn honking.
Fortunately there are some great products to improve your driving experience (and they don't involve earplugs). They're called vibration dampers and a question we hear all the time is, do you go with the mats or with a sound deadening spray?
Sound Deadening Material 101
The core principle of vibration damping is to apply a layer of soundproofing material to metal surfaces that are vibrating, or resonating sound. This extra layer acts as a shock absorber to resist the energy of the vibrations, thus "deadening" a lot of the noise. On the types of sound deadening material – mats versus a car soundproofing spray – the products at Second Skin Audio have a lot of similarities, and many people choose to use them in tandem. What you choose often comes down to your preference, so let's get down to the details.
SOUND DEADENING Material
The most effective sound deadeners are made with a base of some sort of elastomeric rubber. For a sound deadening mat, it's butyl rubber paired with an aluminum constraint layer; for liquid applied sound damping material and sprays, it's a water-based viscoelastic polymer.
Whatever you do, never buy an asphalt product – you may save in the short term, but cheap sound deadening has a history of biting you down the road. Even worse, the chemicals out-gassed by heated asphalt have been linked to health concerns (the International Agency for Research on Cancer has labeled asphalt a class 2B carcinogen... do you really want that in your car?). It's hard to understand why someone would put a $20 piece of asphalt into a vehicle worth thousands or tens of thousands of dollars. The only thing we can come up so we believe most people don't realize the mistake they're making.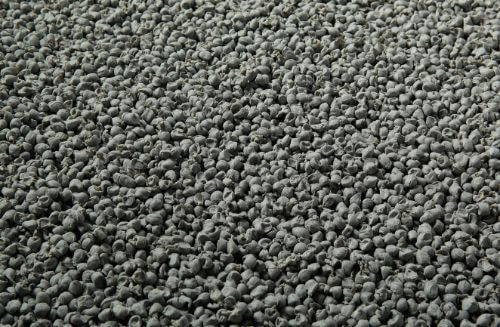 Application Strategies
Both mats and spray on sound deadener are applied directly to metal. For interior use of either material, best practice is to strip your vehicle down to fully expose the metal surface. Sound deadening mats come in sheets and you can cut them to size with a sharp utility knife. You should make sure the mats you choose come with a strong adhesive on one side to to ensure they stay in place once installed.
To apply liquid deadener, we recommend using a spray gun to get an even coat across the board, although some folks prefer to simply paint it on with a brush. There are liquid sound deadener options that come in an aerosol can, but we can't recommend those for the same reason we don't recommend asphalt mat products. They stink; they don't work as well; and just overall they don't meet our quality standards.
Sound Deadening Mats vs Spray
Now for the differences. CLD Sound deadening mats and liquid deadeners do vary in terms of cost, application ease/difficulty, and time required to get the job done. As with just about everything in life, both have pros and cons.
Pros
Cons

Durable, long-term noise solution

Due to thickness and ease of application to the car's interior, these are widely considered to be the superior product

Mostly odorless as long as you go with butyl rubber

Foil constraint layer reflects heat and thermally insulates vehicle

Can be time consuming to cut and position

Application process requires a good arm workout with your hand roller

Difficult to remove

Oxidation (rust) can occur if consistently exposed to standing water

Easy to apply if the car is already stripped to the metal

Great option for hard-to-read areas

Works well for large surface areas that require an even coating (like Jeep or van floor insulation)

No cutting (or danger of cutting yourself)

Easy cleanup with water

Seamless finish that is waterproof and scratch resistant

Could require multiple layers to get to your desired thickness

Risk of chipping with heavy impact

Low quality options can leave behind an unpleasant odor

Can get messy if you're not careful or the vehicle isn't stripped. Requires masking to prevent overspray
Because mats come in large pieces, they're easy to apply to the large flat parts of your car. On the other hand, liquid deadeners are great for hard-to-reach areas, as the spray offers agility that mats don't. Many people opt to use a combination of both, using sprays to fill the gaps left between mats or for sound deadening wheel wells and the underbody of the car (a great option for road noise reduction). It usually comes down to your preferred application method, so we recommend to go with the option that makes you comfortable.
SaabKyle04: Sound Deadening Mat Install
Second SKin THROWBACK: Spray on Sound Deadener Install
NOT SURE WHAT PRODUCTS YOU NEED?
Try our product recommendation tool and find exactly what you need.
Second Skin's Sound Deadening Options
We offer industry leading solutions of both sound deadening mats and spray on sound deadeners. All Second Skin products are made of superior materials and tested for performance, with our deadening materials offering unparalleled heat ratings, vibration damping, and value per square foot.
Damplifier ProTM Sound Deadening Mat
Damplifier Pro™ is our most popular product. Our sound dampening material has a base of dense elastomeric butyl rubber with a 6.5-mil annealed foil constraint layer, able to conform to and form a strong bond with sheet metal, aluminum and other solid materials, including fiberglass. Installation is fairly simple – just cut to size, peel to reveal the built-in adhesive, and stick. Damplifier Pro™ is the most effective sound deadening material for trucks and cars for low temperatures and has the highest heat resistance of any competing products. These mats are built to last and will perform for the life of any vehicle.
Black mats with ghosted Second Skin Audio logo

2mm total thickness (80 mils)

12" x 20" sheets (1.67 sq ft)

0.7 lbs per sq ft

Optimized for temperatures between 14°F (-10°C) and 140°F (60°C)

Able to withstand temperatures between -75°F (-60°C) and 450°F (232°C)

Made in the USA

Engineered for high performance, scoring between "very good" and "outrageously good" on industry standard vibration testing

Minimum 25% metal coverage required to deaden metal (We recommend 60% coverage, as that'll get you 95% of the results, but many customers choose to cover 100%)
| | |
| --- | --- |
| Temperature | Acoustic Loss Factor* |
| | |
*The acoustic loss factor "n" is used as a measurement of a material's ability to reduce structure-borne sound, representing how much vibrational energy is converted to heat instead of sound. Thus, the higher the "n" value, the better the deadening.
I would say that the performance of your damping material is excellent…Peak damping of (n = 0.437) or even (n = 0.378) is absolutely huge levels of damping. It is so high that we have problems measuring it accurately. Keep in mind that for this test, (n = 0.10) is good; (n = 0.20) is outrageously good. If you are up in the (n = 0.30) range, or higher, that's absolutely huge damping levels.
Sound Deadening Paint for cars - SpectrumTM Liquid Deadener Spray
Essentially a sound deadening paint, our Spectrum™ spray on sound deadener has been a leading car insulation solution for over a decade. We tested dozens of formulations before deciding on the best combination of properties to reduce sheet metal resonance and structure-borne noise. Spectrum™ is a water-based, viscoelastic polymer that's easy to apply, easy to clean and engineered to perform. This sound deadening paint, it will adhere to most anything besides plastic and is perfect for those tough-to-reach parts of your vehicle.
Blue when wet and dries to a dark gray, seamless look

Apply in layers to choose your own thickness and accomplish desired noise damping. The first layer should be no more than 1mm, but if doing multiple layers you can be a bit more aggressive because Spectrum adheres extremely well to itself

Excellent for hard to reach parts of your vehicle (undercarriage, wheel wells)

1 gallon covers 20 sq ft at 2mm total thickness

Temperature rated up to 400° F

Made in the USA

Minimum 1mm thickness is required to achieve any sound deadening (We recommend 2-3mm, although some customers choose to go up to 5mm)
To Spray or To Brush?
It's a good question, and only you can answer it. Brushing is the most popular choice for applying Spectrum because it's so easy to use a paint brush or roller. Simply dip a paintbrush into the bucket and paint Spectrum™ on any metal surface. Spraying, however, is the most efficient method for coating large surface areas. If you have a spray gun and a compressor, it's the fastest and easiest way to apply your sound deadening spray.
Sound Deadening Mat or Spray on Sound Deadener: Let Your Gut Lead the Way!
It's good to have options. Especially when both are awesome. Both Damplifier Pro and Spectrum are best of their kind solutions to stopping metal vibrations. Chances are... at some point during this article (or from prior experience), you started leaning towards one particular application method. That's the one you should go with.
Or... you can do BOTH! There are several scenarios where it may make sense to use both Spectrum and Damplifier Pro.
You want to treat the interior metal (doors, floor, trunk, hood, roof, firewall) with Damplifier Pro and the exterior metal (wheel wells, undercoating) with Spectrum.

You want to use Damplifier Pro as the primary deadener, but prefer the seamless finish of Spectrum as that top coat.

You're competing in SPL competitions or have some other cause of SERIOUS sound pressure.
Give Us a Call and Enjoy Quiet Days Ahead
Whether you prefer to spray or brush on Spectrum™ Liquid Deadener or peel and stick the self-adhesive Damplifier Pro™, you're in for a whole new driving experience with your much quieter ride. Both products perform really well, much better than a lot of cheap peal and seal sound deadening alternatives on the market. If you have questions or want to discuss your options, reach out any time. We're here to help and love a good car project conversation at any time of our day.