What are Soundproof Blankets?

Sound blankets are used to control noise in a space. There are two main categories: soundproof blankets and acoustic blankets. Soundproof blankets (also known as sound barrier blankets) are used to prevent sound from traveling between two spaces. Our Quiet Quilt Soundproof Blankets are heavy and feature an absorptive vinyl face which also absorbs sound. Acoustic blankets are used to reduce echo and reverb, often in an industrial or commercial setting. The acoustic blanket is lighter weight and should be used in combination with another barrier (concrete, bricks, wood).
Soundproof blankets are the most utilized version of sound blankets. The indoor version is often used for industrial or warehouse soundproofing applications as they are a cheaper and more flexible option than permanent walls. We sell our indoor blankets in our Portable Soundproof Enclosure and Floor Mounted Soundproof Enclosure. The blankets are attached to portable framing, floor mounted framing, or suspended from the ceiling to act as a barrier between a loud machine and the rest of the manufacturing plant. Because the blankets are rated for STC (blocking sound) and NRC (absorbing sound), they are excellent for reducing and controlling noise around loud machinery. The exterior rated soundproof blankets are often used around outdoor machinery for soundproofing a commercial generator or HVAC unit. They are also using as a soundproof fence, around outdoor venues (tennis courts, entertainment venues) and construction sites to meet local soundproofing requirements and add privacy. The outdoor rated blankets are easily installed on existing fencing and are rated to last 15+ years with up to 15 decibels in noise reduction.
Acoustic blankets are typically installed indoors in an industrial setting to control echo and reverb. As they are rated for NRC (not STC), they are primarily for absorption and not meant to act as a sound barrier. Our Quiet Quilt Acoustic Blankets are durable and easy to clean, which makes them an ideal choice anywhere that needs sound control, but that maintenance may be an issue. The acoustic blankets can be installed on walls, ceilings, or hanging like a baffle. For the exterior rated acoustic blankets, we often see them installed where noise reduction is needed but there's already a decent barrier in place (think: wood or brick fence – NOT a chain link fence). If there's a loud HVAC unit with a sturdy wood fence around it, the acoustic blanket may be a better option than the soundproof blanket.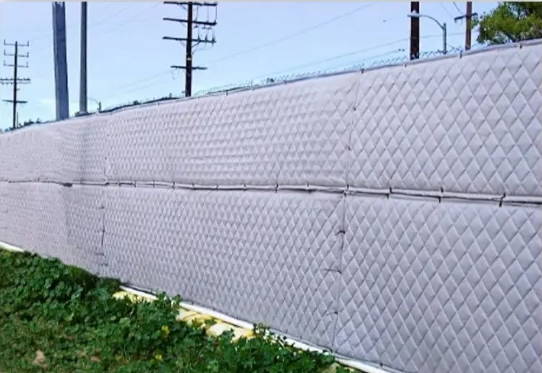 Do Soundproof Blankets Really Work?
Yes, soundproof blankets work great when the right blanket is used for the right situation. We sew an absorptive vinyl face onto mass loaded vinyl to get top-of-the-line STC ratings and NRC ratings. A 1lb MLV Quiet Quilt blanket will have around an STC 32. The 2lb MLV Quiet Quilt can get up to a STC 38 (mostly for extremely loud machinery).
To get the most out of your Quiet Quilt Soundproof Blankets, you should be sure your plan (and fence) doesn't have any holes in it! We wrote a full article on the key features of a soundproof fence, and the same rules apply to a soundproof enclosure. Some of the most important rules are:

1. Must bring line of site with the noise source
2. Must be 1.5-2x as tall as the noise source
3. Must enclose the noise source well enough that sound doesn't diffract around the blanket
When installed properly, a Quiet Quilt fence can reduce unwanted noise by up to 10 decibels (up to 50% of perceived noise) and a Quiet Quilt enclosure can reduce the unwanted noise by up to 15 decibels (up to 65% of perceived noise).
If you'd like help designing or planning your sound barrier, reach out to one of our Second Skin experts who can talk through your specific situation!
Acoustic Blankets vs Soundproof Blankets
Acoustic blankets are designed to reduce echo and reverb. Soundproof blankets are designed to block sound and prevent it from moving into or out of a space. Those different goals lead to slightly different constructions in our line of Quiet Quilt sound blankets:

1. The soundproof blanket includes mass loaded vinyl with an absorptive vinyl face, whereas the acoustic blanket is just the vinyl faced absorber. The blanket with mass loaded vinyl is MUCH heavier, weighing about 3x as much per square foot.
2. The soundproof blanket includes industrial Velcro on two edges, so that each blanket can be overlapped and sealed to the other.
3. The soundproof blanket has extra grommets sewn in to support the extra weight.
The right blanket will depend on what your noise issue is!
| | |
| --- | --- |
| Type of Blanket | Use CaseU |
| Quiet Quilt Indoor Acoustic Blanket | Used as an acoustic wall panel or ceiling baffle in manufacturing plants, warehouses, and other industrial settings. |
| Quiet Quilt Outdoor Acoustic Blanket | Used in combination with a solid barrier fence around outdoor HVAC equipment or other machinery. Great as an AC sound blanket |
| Quiet Quilt Indoor Soundproof Blanket | Used indoors as moveable or permanent soundproofing barriers around loud machinery. More cost effective and flexible than permanent structures. |
| Quiet Quilt Outdoor Soundproof Blanket | Used outdoors as a permanent noise barrier around outdoor machinery (generators, HVAC, drilling rigs) and sport courts. For a construction temporary soundproof barrier, please request a custom quote. |
| Quiet Quilt 2-Sided Barrier Blanket | Used as a soundproof divider partition between two parts of a room, an enclosure for machinery, or to line walls of a room with removable barrier. Only for indoor use. |
How to Hang Sound Blankets
Hanging our Quiet Quilt blankets is super easy! We've sewn in grommet holes that can be used to attach it to whatever structure (fencing, framing, etc) you want to hang them on. The most common thing our blankets are hung on is a chain link fence (outdoors), a steel frame (indoors), or a ceiling (also indoors). They really can be attached to anything that support their weight though.
The most common attachment method is with zip ties or wire ties. We also frequently see installation with a fender washer and self-tapping screws. The fender washer should be larger than the grommet.
Frequently Asked Questions on Soundproof Blankets
Can you get custom sized soundproof blankets?
Yes, we can do custom sizes both for length and width.
Length
We can do anything up to 25'. Our standard length is 8'.
Width
Up to 4.5' wide for the soundproof blankets
Up to 4' wide for the acoustic blankets and 2-sided barrier blankets.
What colors of soundproof blankets are available?
Our standard blankets come in grey. We also can make blankets in tan, black, and white.
For larger orders (500 square feet or more), we can do custom colors. Reach out to learn more!
Are sound blankets better than acoustic panels?
Acoustic panels should only be used for echo and reverb reduction. Sound blankets can be used for both soundproofing and acoustics, depending on the blanket design you choose.
For sound quality improvement (acoustics), sound blankets are typically preferred over acoustical panels when durability, maintenance, and ease of cleaning are key concerns.
Most acoustic panels aren't designed for the wear and tear associated with industrial or outdoor applications.
How do moving blankets compare to soundproof blankets?
They both are called blankets. That's about it.
We wrote an article comparing the two if you think moving blankets may be a good fit for your situation, we recommend reading our moving blankets vs sound blankets article.