What are Speaker Tweakers?
Each Speaker Tweaker is a 7 inch, round disc made of siliconized rubber with 1/8" raised grooves. By super gluing a Speaker Tweaker 3-8 inches behind a car's speaker, back waves are redirected away from the back of the speaker cone. Sound quality improves due to less distortion and acoustic cancellation caused by those back waves.
How do I enter the Speaker Tweaker giveaway? Can I enter more than once?
Entries into the Speaker Tweaker Giveaway can be earned by submitting your email address, liking/following Second Skin on social media, and sharing Second Skin posts. After initial entry, you will receive an email explaining how to obtain additional entries and increase your odds of winning.
Only one email address can be entered per person.
How will winners be selected?
Winners will be randomly selected from all eligible entrants once per week on Fridays (5/8, 5/15, 5/22, and 5/29). There will be one winner every day in May 2020. The final two winners will be announced on June 1st.
How will I know if I've won?
Winners will be announced on Second Skin's social media accounts each Friday for the duration of the contest. Each winner will receive an email with details about how to claim his or her Speaker Tweakers.
You must respond to the email and provide shipping information to receive your prize of (2) Speaker Tweakers.
I'm not receiving contest emails. What should I do?
Start by checking your junk email, spam filter, and/or promotions tab. You may need to whitelist Second Skin Audio to receive email messages from us. If the problem continues, email us at [email protected].
Submit Your Project to Second Skin
Send videos or photos to enter! Winners selected monthly.
I Want to WIN: What Should I Submit?
A dash of creativity and a bit of fun goes a long way.
Project Videos? Yes Please!
We love sharing Team Second Skin's install videos. A good video can be informative, impressive, funny... you do you. We'll just enjoy.
Keys to awesome videos include:
Unboxing your Second Skin

Before/During/After the install

Install tips and tricks

Testimonials on why you trust Second Skin in your builds

How else did you use your Second Skin?

Show those results! A video is perfect to let Team Second Skin HEAR the difference!
Photos... Photos... Photos
We've been posting shout outs to Team Second Skin builds since before Instagram/Facebook was a thing. Get yourself on the board!
Keys to awesome photos include:
Show the finished vehicle or project

Before/During/After the install

Swag shots of you in your Second Skin gear

Results! Share how much more quiet (or less hot) your car, room, equipment, etc is after some Second Skin.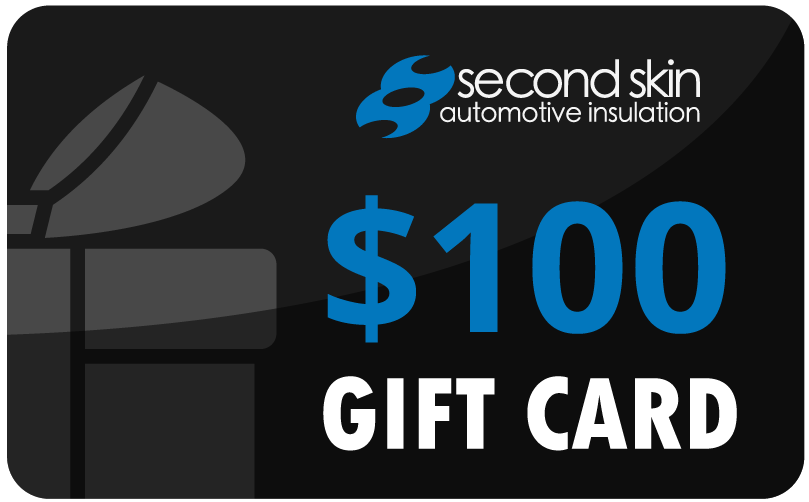 Winners announced every month!
The exact prizes change from month-to-month, but there's always some $100-250 gift cards and Second Skin swag of $25-50 to be won. Any approved entry is eligible for all prizes.
We've been known to give multiple submissions to anyone who knocks our socks off with their entry.
Follow us on social media to keep track of this month's prizes and see your project shared!