Featured Build: Honda CRX BASS Monster
Marley pigeon toad borrough's 1991 crx
Champions are created when hard work, passion, and talent come together to achieve something amazing. Marley "Pigeon Toad" is no stranger to the hustle. As a 4x World Record Holding Champion in NADBL, his bad ass CRX is fully skinned in Second Skin Damplifier Pro, actually with multiple layers to withstand the brutal force and pressure created by these massive sound systems. It was even enough layers to keep a tree from breaking through the roof!!! Yep, that really happened. Check out the full details on this epic Honda CRX sound deadening build below.
Follow Pigeon Toad on Instagram to keep up with his journey dropping the BASS and increasing those dB's! Marley Pigeon Toad Borrough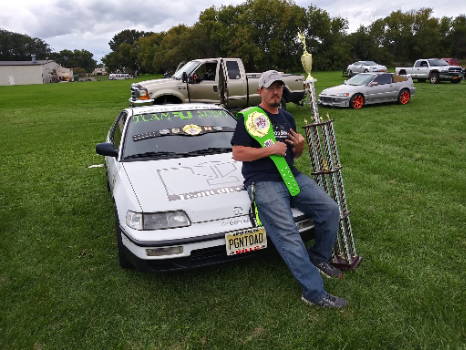 1991 CRX 3x World Record Holder Champion Marley Pigeon Toad Borrough.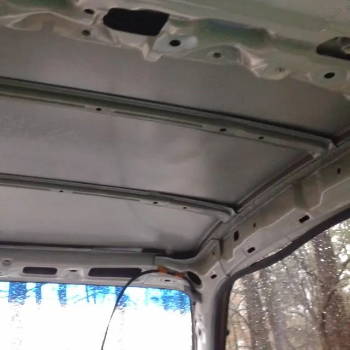 The 1991 CRX roof before the Second Skin Damplifier Pro, bare metal screaming for that butyl love.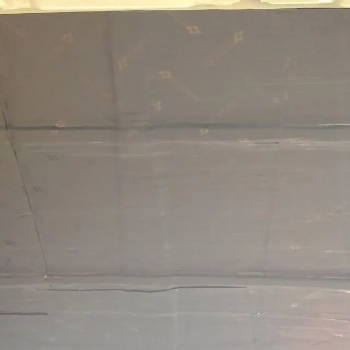 When you are dropping the BASS down low and hitting 160+ dB, it takes a few layers of high quality butyl to keep your vehicle from being ripped apart. Marley went with (3) layers of Damplifier Pro 2mm thick each for a skin strong enough to fight those vibrations.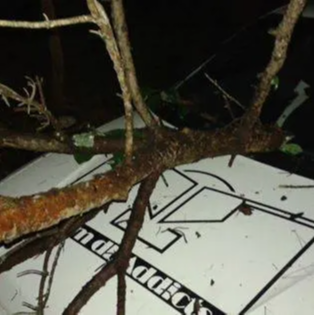 Remember that tree we mentioned earlier? Well here it is... Marley called us up one winter day and said:
"Did you know your product saved my roof? The body shop couldn't believe there was no bends or dents in the roof after this tree fell on top of it. 3 layers of Second Skin for the win!!"
While this was the first time a roof was saved, it's not the first time a customer has called in about Damplifier Pro saving their car's body from low speed impacts (usually the doors). It won't quite be an armored truck, but Damplifier Pro has saved body work and even stopped a few fires!!!
Bare bones metal. This is where the boom booms are going. Time to get that metal skinned with Damplifier Pro! Because of this extreme BASS build, Marley used a few layers throughout the entire vehicle...no need to skimp when you are going for World dB Domination!!!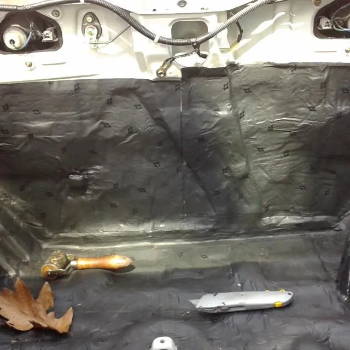 Once you get started on building a BASS Monster you have to keep the butyl coming, layer after layer...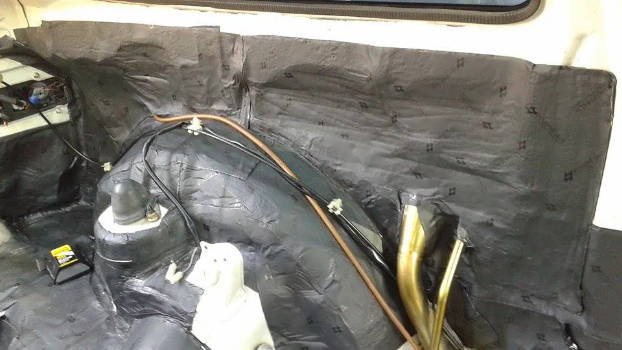 Rear wheel well and side wall skinned with a couple layers.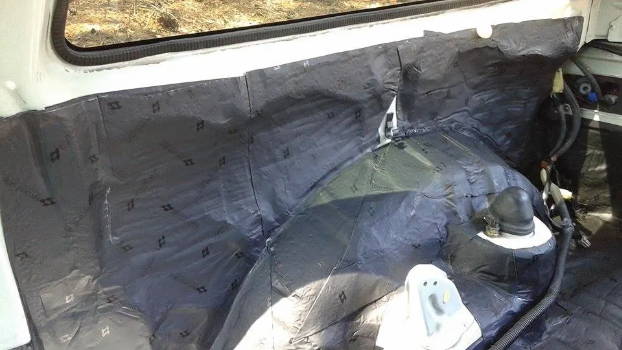 Other side wall and wheel well covered with Damplifier Pro.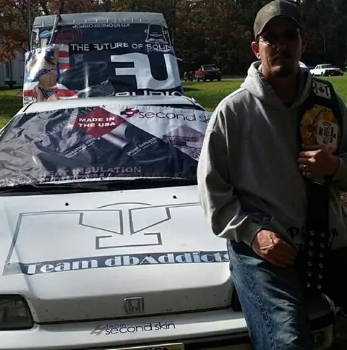 Before we move on, here is a shot of the CHAMP showing his sponsors some love after another World Record setting victory. #TeamSecondSkin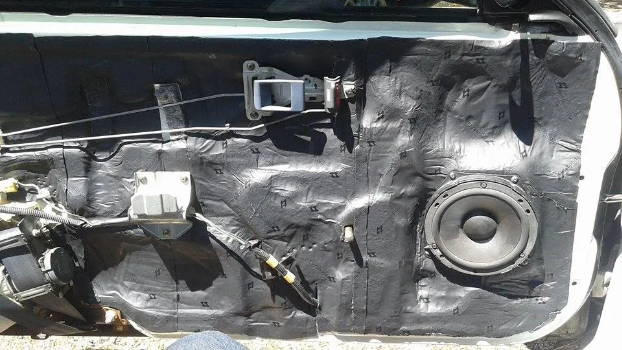 Like we said, every inch of metal skinned with multiple layers of Damplifier Pro to keep this car together. With BASS levels like this, cars and trucks will be ripped apart without treatment. Second Skin has been helping competitors achieve their goals for the past 20 years!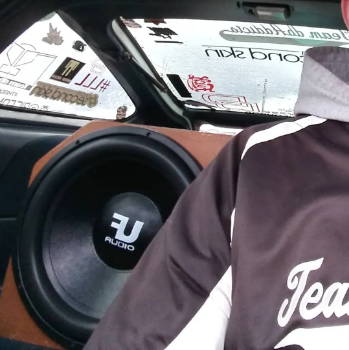 After all of the hard work of installing sound deadening, it all comes together into something beautiful.
#TeamdbAddicts #TeamSecondSkin #TeamFUaudio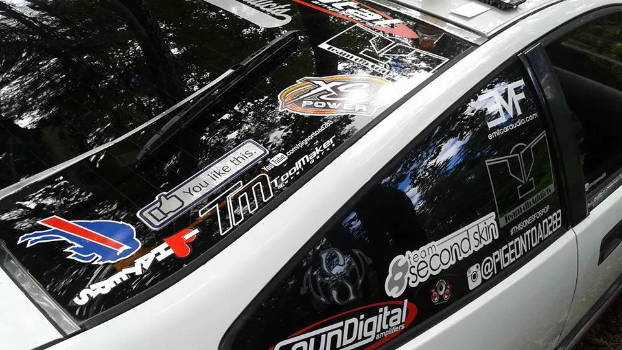 Years later, the roof beam is still solid and those decals are on point. Great work on this build CHAMP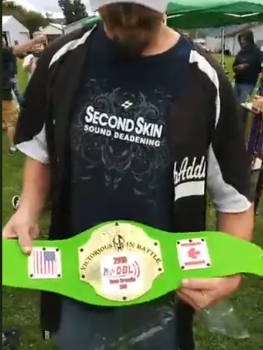 Hard work pays off..Congratulations again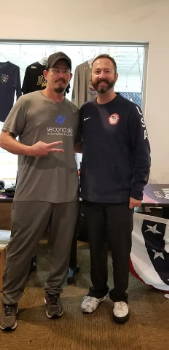 What a great day to be wearing your new Second Skin T-Shirt! Hello Tyler George! (US Gold Medalist in curling...USA...USA!!) #TeamSecondSkin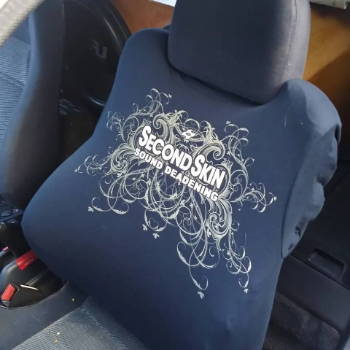 Time to retire the old Second Skin t-shirt. Best looking seat cover I've ever seen!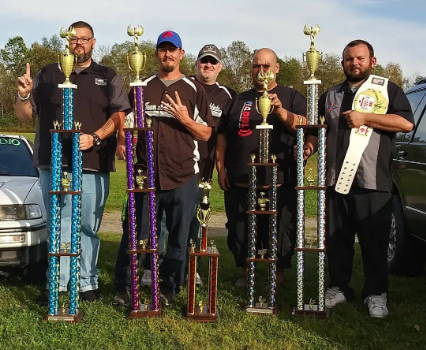 Four Time World Champion Marley Pigeon Toad Borrough! Thank you for insisting on Second Skin for all your sound deadening needs!!
More Honda Sound Deadening Projects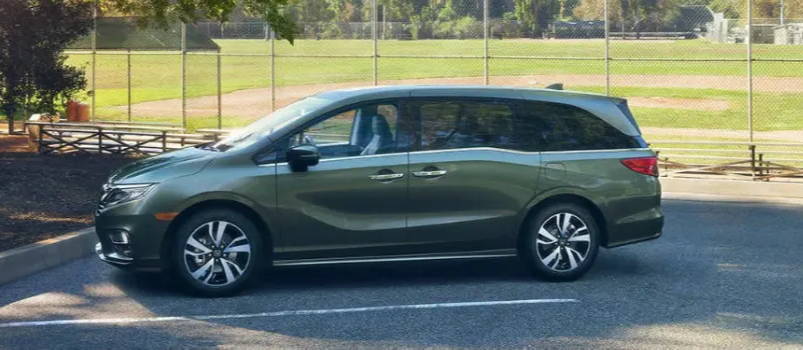 2018 Odyssey
Type of Project: Van Soundproofing Floor, Ceiling, & Doors
Products Used: 122 Sq Ft of Damplifier Pro Deadener (Floor/Doors/Ceiling)
68 Sq Ft of Luxury Liner Pro Sound Barrier Material (Floor/Cargo Wheel Wells)
48 Sq Ft of Mega Zorbe Hydrophobic Melamine Foam (Ceiling)
27 Sq Ft of OverKill Pro Closed Cell Foam (Doors)
Accessories: Spray Adhesive (3 cans), Wooden Roller, Foil Tape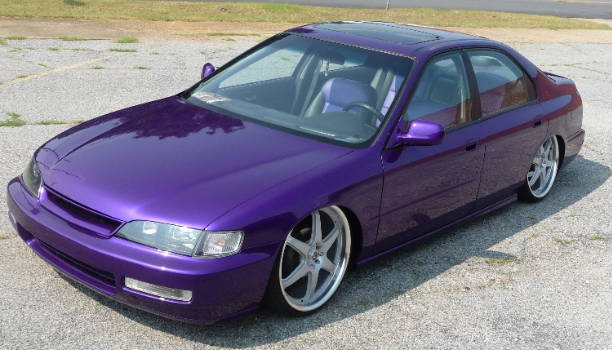 1997 accord 4 door
Type of Project: Floor, Doors, & Trunk
Products Used: 95 Sq Ft of Damplifier Pro Deadener (Floor/Doors/Trunk)
70 Sq Ft of Luxury Liner Pro Mass Loaded Vinyl (Floor/Trunk)
30 Sq Ft of OverKill Pro Closed Cell Foam (Doors)
Accessories: Spray Adhesive (3 cans), Wooden Hand Roller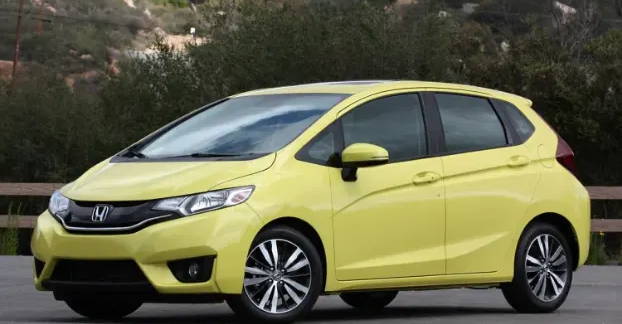 2015 Fit
Type of Project: Honda Fit sound deadening plus Car Insulation to the Full Cabin Area
Products Used: 70 Sq Ft of Damplifier Pro Deadener (Floor/Doors/Rear Hatch/Ceiling)
42 Sq Ft of Luxury Liner Pro Sound Barrier Material (Floor/Hatch)
28 Sq Ft of Mega Zorbe Hydrophobic Melamine Foam (Doors/Ceiling)
Accessories: Spray Adhesive (1 can), Wooden Roller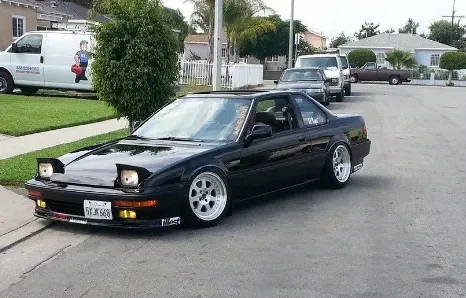 1991 Prelude
Type of Project: Floor, Trunk, & Doors
Products Used: 60 Sq Ft of Damplifier Pro Deadener (Floor/Doors/Trunk)
60 Sq Ft of Luxury Liner Pro Sound Barrier Material (Floor/Doors/Trunk)
Accessories: Spray Adhesive (2 cans), Wooden Roller
2013 accord
Type of Project: Full Vehicle
Products Used: 80 Sq Ft of Spectrum Liquid Deadener (Floor/Doors/Ceiling/Trunk/Hood)
63 Sq Ft of Luxury Liner Pro Sound Barrier Material (Floor/Trunk/Cabin Firewall)
57 Sq Ft of OverKill/OverKIll Pro Closed Cell Foam (Doors/Door Panels/Trunk Lid)
24 Sq Ft of Heat Wave Pro Jute Thermal Insulation (Ceiling)
20 Sq Ft Hood Kit with Mega Block Thermal Insulation
Accessories: Spray Adhesive (4 cans), Wooden Roller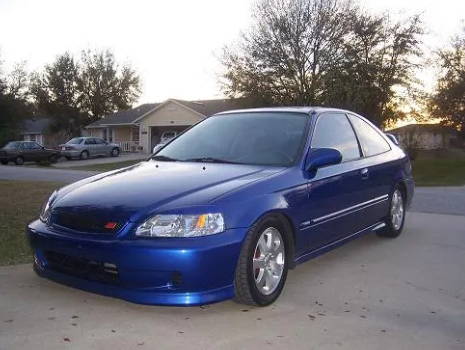 2000 civic
Type of Project: Full Vehicle Sound Deadening
Products Used: 85 Sq Ft of Damplifier Pro Sound Deadening (Floor/Doors/Firewall/Ceiling/Trunk)
54 Sq Ft of Luxury Liner Pro Sound Barrier Material (Floor/Doors/Trunk)
24 Sq Ft of Heat Wave Pro Jute Thermal Insulation (Ceiling)
Accessories: Spray Adhesive (3 cans), Wooden Roller, Foil Tape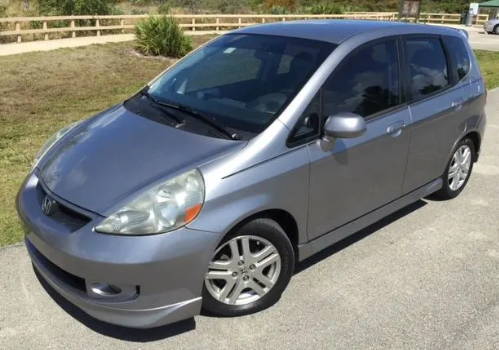 2008 Fit 5 Door hatchback
Type of Project: Full Vehicle
Products Used: 67 Sq Ft of Damplifier Pro Deadener (Floor/Doors/Hatch)
38 Sq Ft of Luxury Liner Pro Sound Barrier Material (Floor/Hatch)
34 Sq Ft of Mega Zorbe Melamine Foam (Doors/Ceiling)
Accessories: Spray Adhesive (3 cans), Wooden Roller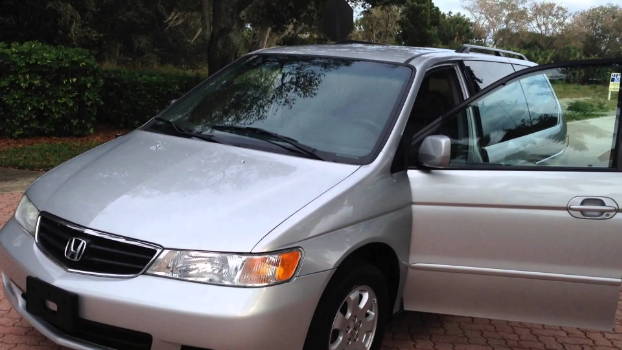 2004 odyssey
Type of Project: Floors & Doors
Products Used: 85 Sq Ft of Spectrum Liquid Deadener (Floor/Doors)
62 Sq Ft of Luxury Liner Pro Sound Barrier Material (Floor)
38 Sq Ft of Mega Zorbe Melamine Foam (Doors/Cargo Door)
Accessories: Spray Adhesive (4 cans), Wooden Roller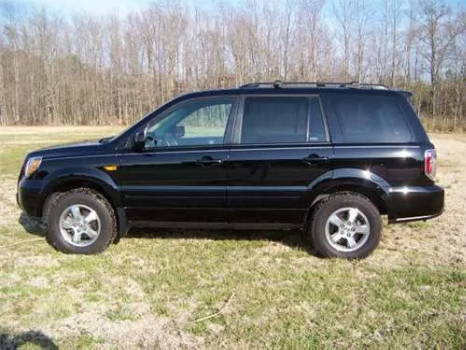 2008 pilot
Type of Project: Floor, Cargo Area, & Doors
Products Used: 94 Sq Ft of Damplifier Pro Deadener (Floor/Doors/Cargo Area)
58 Sq Ft of Luxury Liner Pro Sound Barrier Material (Floor)
38 Sq Ft of OverKill Pro Closed Cell Foam (Doors/Cargo Door)
Accessories: Spray Adhesive (3 cans), Wooden Roller, Fury Knife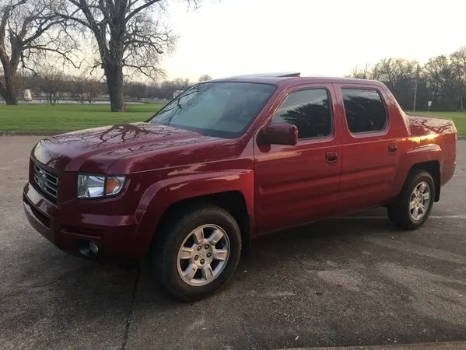 2006 ridgeline
Type of Project: Doors & Back Wall
Products Used: 46 Sq Ft of Damplifier Pro Deadener (Doors/Back Wall)
46 Sq Ft of Luxury Liner Pro Sound Barrier Material (Doors/Back Wall)
Accessories: Spray Adhesive (1 can), Wooden Roller