Featured Build: BPRSNT Sprinter Van
2020 Sprinter Van Sound deadening
Olympic Snowboard Medalists, X Games Medalists, Wilderness First Responders, Extreme Rock Climbers, Women's Retreat Organizers, International Speakers, and just All Around Bad Asses... Chanelle Sladics @chanellesladics and Kjersti Buaas @kjerstibuaas reached out to Second Skin to help them convert their brand new Sprinter Van into a mobile command center for their new brand, BPRSNT @bprsnt . Because it's also going to be a living space, they needed it to be soundproofed, thermally insulated, and safe for their health! There's no cutting corners in a vehicle you plan to live in, so Second Skin was the clear choice! These two ladies are doing amazing things in life, and we were honored to help them launch their next adventure with this Mercedes Sprinter Van.
This 2020 Sprinter Van was the biggest model, the long and tall version, so there's a LOT of square footage to cover. It took 240 sq ft of Damplifier Pro to get 60% coverage on the entirety of the van, except the floor and wheel wells --- those are 100%! A whopping 126 sq ft of Luxury Liner Pro was used on the floor from the front cabin to the very rear, including over the wheel wells and on the cabin firewall. Next up, they used 40 sq ft of Mega Zorbe for the doors and cabin headliner. To finish, they installed 120 sq ft of Heat Wave Pro to the ceiling of the cargo area. They also used Havlok Wool on the walls of their van.
Don't miss out on these featured build photos! You don't want to miss seeing the first ever Yoga sound deadening poses!! Make sure to follow Chanelle and Kjersti as they travel the country. Don't forget to do your part to make the Earth a better place!!!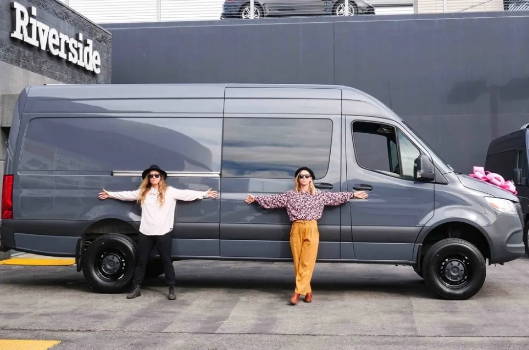 Yup... that Sprinter van is huge.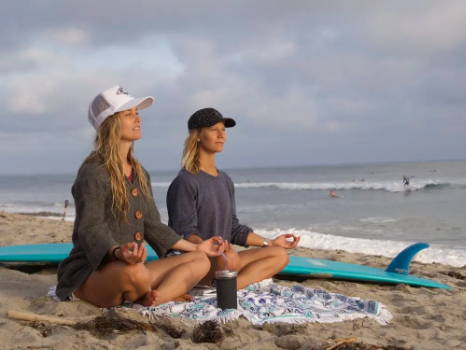 Being centered, grounded, and in tune with the Earth is a big part of life for Chanelle and Kjersti. Being able to run their business on the road and in nature was a big reason for building out the Sprinter Van.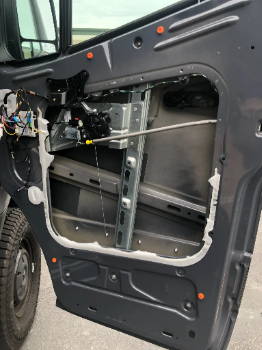 Sprinter Van doors before Second Skin. They're bare and hollow, compounding the echoes of the flimsy metal.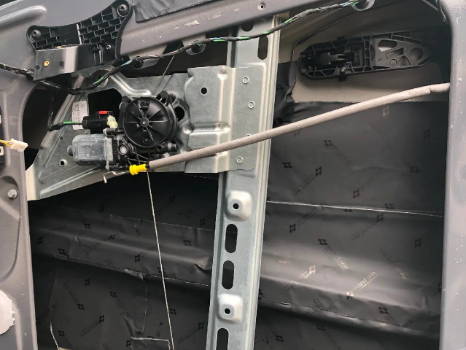 The most important part of the door, the outer door skins. Cover them with Damplifier Pro to make them stronger and reduce flex.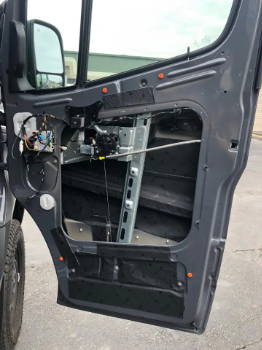 On the inner skin, you can scale back to about 40% coverage and still stop most of the structure born noise. The inner skin is stronger bent and welded metal. For both skins on 2 doors, it took about 16 sq ft of Damplifier Pro.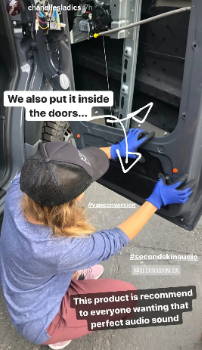 Chanelle putting in work on the Sprinter Van doors.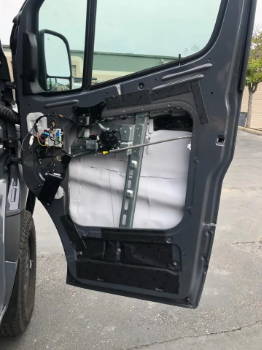 After killing the vibration, time for sound absorption. Mega Zorbe is a super lightweight, sound absorbing foam that has been treated to be water resistant. Check for window clearance before sticking the foam in permanently. These 2 doors have about 8 sq ft of Mega Zorbe on the outer skin.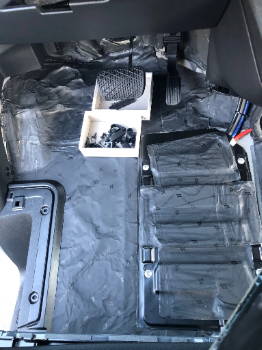 When treating vans and other vehicles with the engine closer to the driver (and sometimes below the driver), it is smart to use 100% coverage to stop the structure borne noise and to absorb the heat transfer from the engine bay and drive train.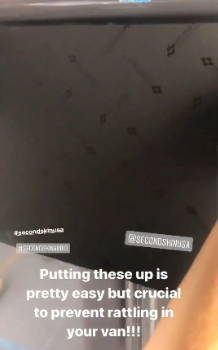 The cabin ceiling gets a solid layer of Damplifier Pro.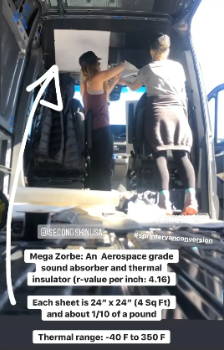 The winning rendering for the wrap. All of the options were great (next slide!), but you gotta admit that this one POPS!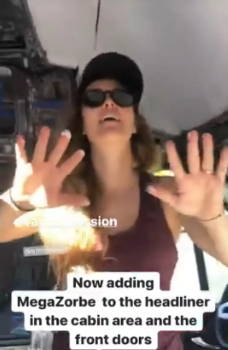 Chanelle is now part of the foam finger club! When applying Mega Zorbe, be careful... those sheets are sticky!!!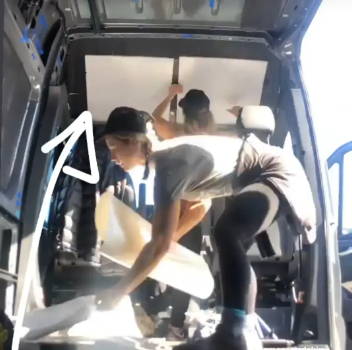 The Mega Zorbe goes on quick with that high temp self adhesive backing.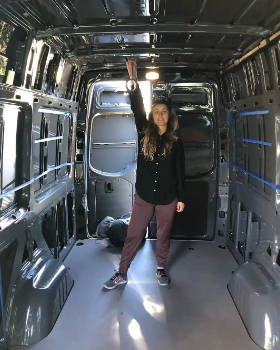 All that bare metal in the cargo area screaming for Damplifier Pro...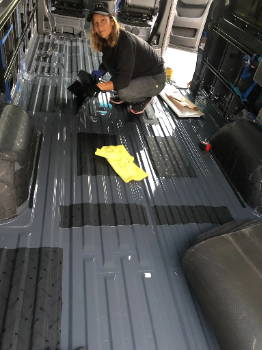 Kjersti starts laying down the Damplifier Pro on the floor of cargo area in the Sprinter Van. For the floor of the van, the ladies went with about 60% coverage to stop the structure borne noise.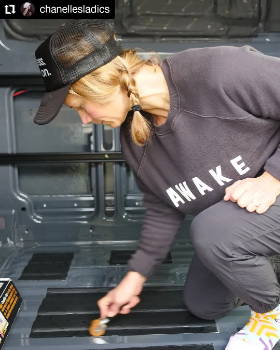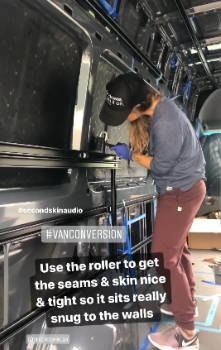 Chanelle using her roller to get the Damplifier Pro bonded to the metal nice and strong.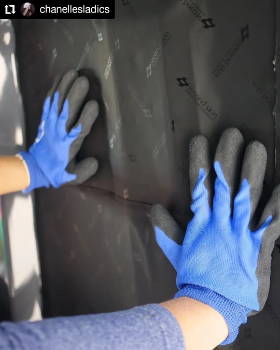 Don't forget your gloves! The edges of Damplifier Pro can be sharp. Wear protection.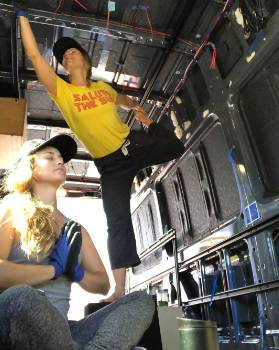 Kjersti and Chanelle execute the first ever sound deadening Yoga workout.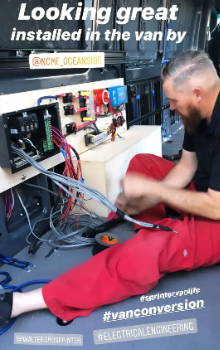 After the floor and walls are sound deadened, get the electrician in there to wire the power house.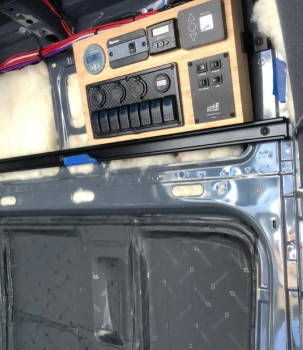 Switches, gauges, and cool stuff for the power needed to live and work from the Sprinter Van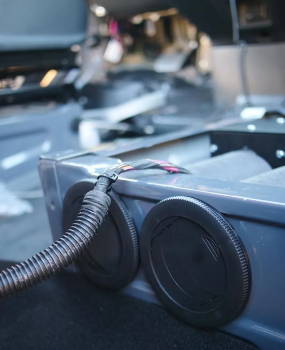 Now that they have power, the heater and a/c unit can be installed. Gotta stay warm when ripping down those mountains!!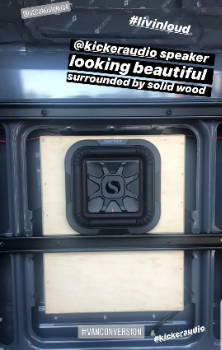 Kicker subs to get the party sounding right.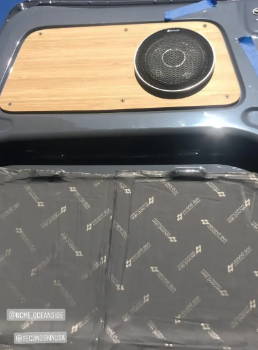 Kicker door speakers to make those highs scream and mids roar.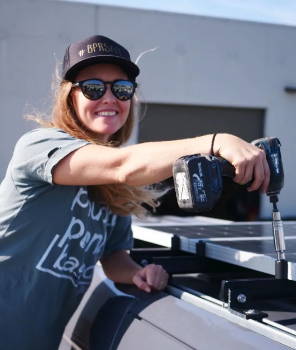 Chanelle installs the solar panels on top to get this system charged during the day for free..."Salute the sun"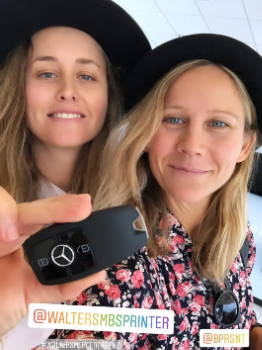 After a week of hard work, time to get out there and tour!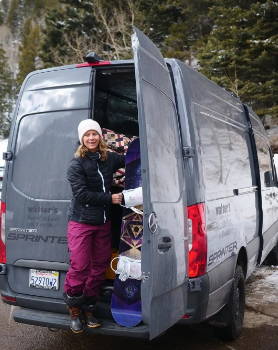 Snowboarding stop! #OlympicMedalist #XGamesChampion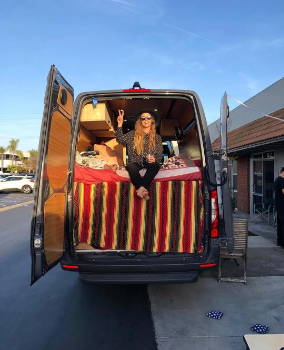 #VanLife #VanLiving #ConversionVan #LivingTheDream
More Mercedes-Benz Sound Deadening Projects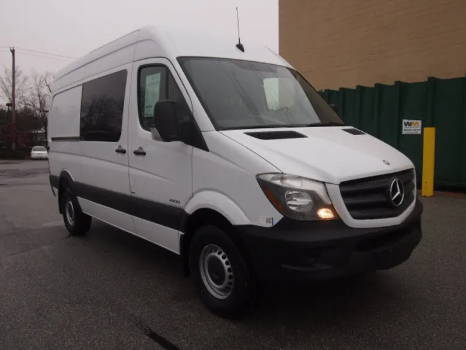 2015 Sprinter (Short length/Medium height with windows)
Type of Project: Floor & Walls
Products Used: 102 sq ft of Damplifier Pro Deadener (60% Coverage)
90 Sq Ft of Luxury Liner Pro Mass Sound Barrier (Floor/Wheel Well Humps)
44 sqft of Heat Wave Pro Thermal Insulation (Walls w/ Windows)
Accessories: Wooden Hand Roller, Spray Adhesive (4 cans)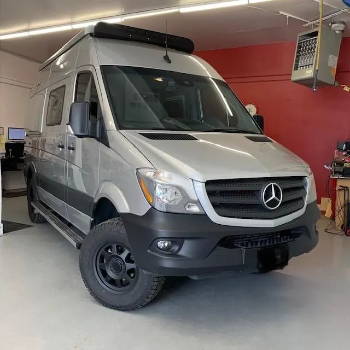 2018 Sprinter (Short Length/Tall Height)
Type of Project: Floor & Doors By Colorado Car Audio
Products Used: 125 Sq Ft of Damplifier Pro Deadener (Floors/Doors)
92 Sq Ft of Luxury Liner Pro MLV (Floor)
36 Sq Ft of OverKill Pro (Front & Rear Doors/Slider Outer Skins)
24 Sq Ft of OverKill (Front & Rear Door Inner Skins)
Accessories: Double Sided Tape, Speaker Tweakers, Wooden Hand Roller
MBVAN's 2017 Mercedes Sprinter Van 4 x 4
This nice 4 x4 edition Sprinter Van got some serious coverage. This build utilized the 40%-60% method with Damplifier Pro all across the van walls, floor, and ceiling with 120 sqft of Damplifier Pro cut into smaller sizes and spread out all along the areas. .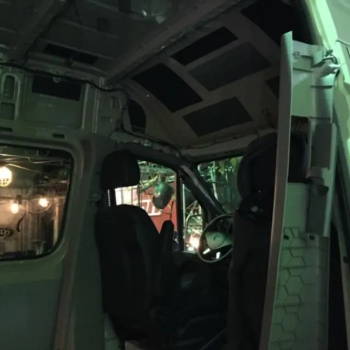 A few sheets used in the cabin ceiling and walls, spread out to use the 40%-60% method.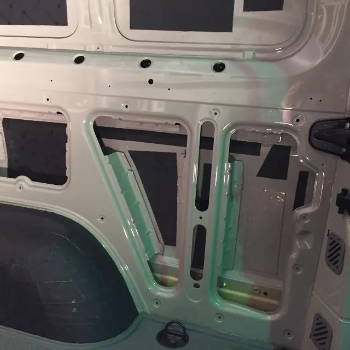 When using the 40-60% method it is still important to hit up the high noise producing areas like the wheel well humps with 100% coverage.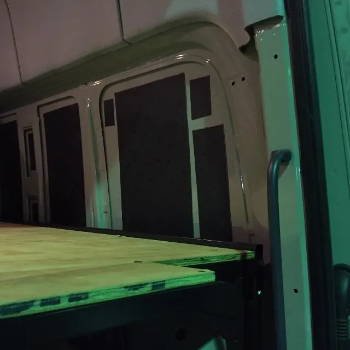 Side Walls of the Sprinter Van with the 60% coverage. Focus on the large flexible metal when using this method.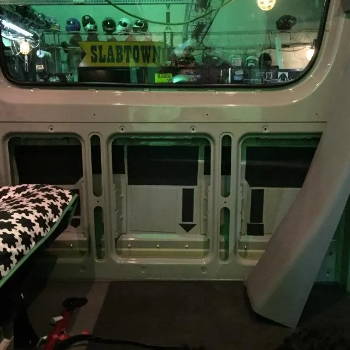 Side walls under the windows with Damplifier Pro.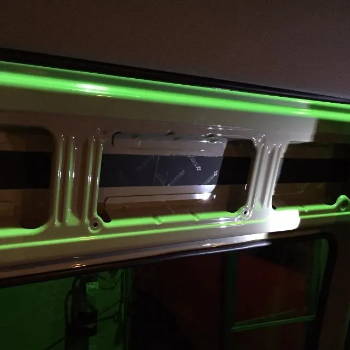 Sliding Door Damplifier Pro.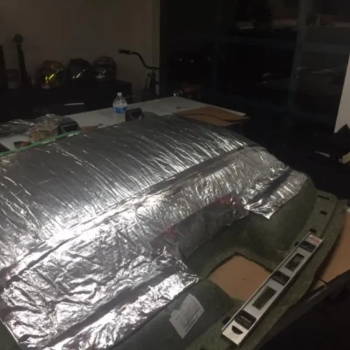 MBVAN used the Heat Wave Pro thermal insulation jute material as the second layer for the entire ceiling area. Attaching the lightweight Heat Wave Pro directly to the headliner molds.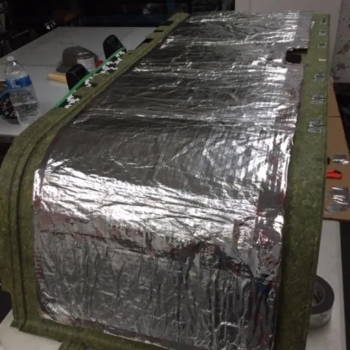 Mid section headliner lined with Heat Wave Pro.
Rear cargo section headliner lined with more Heat Wave Pro. The entire roof area from windshield to rear doors took (6) sheets of Heat Wave Pro.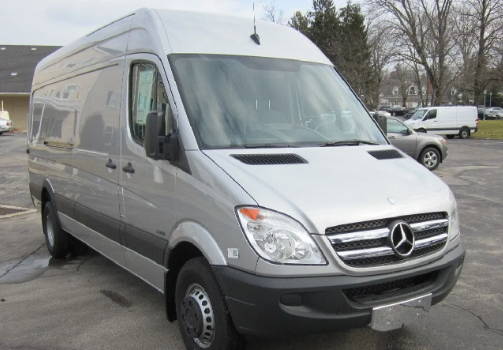 2013 Sprinter (Short Length/short height)
Type of Project: Undercarriage and Wheel Wells
Products Used: 120 sq ft of Spectrum Liquid Deadener (Undercarriage/Wheel Wells)(3 Coats)
Accessories: Spray Gun & Bottle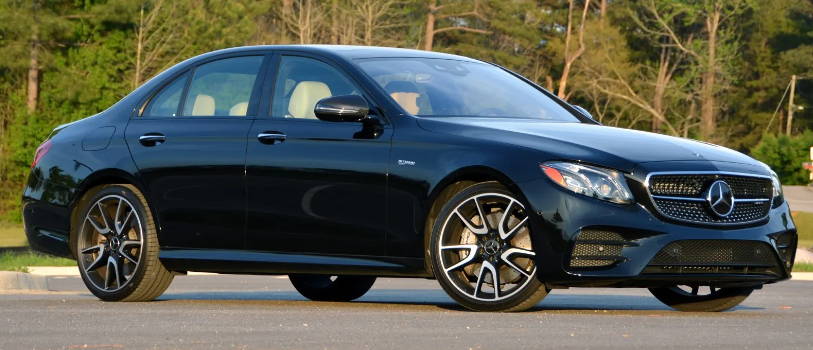 2018 amg e43
Type of Project: Full Interior Soundproofing
Products Used: 100 sq ft of Damplifier Pro Deadener (Floor/Doors/Ceiling/Trunk)
70 sqft of Luxury Liner Pro (MLV)(Floor/Trunk)
36 Sq Ft of Mega Zorbe Melamine Foam (Doors/Ceiling)
Accessories: Spray Adhesive (2 cans), Wooden Hand Roller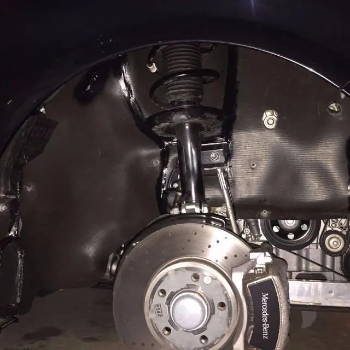 2014 CLA 250
Type of Project: Wheel Well Soundproofing
Products Used: 40 sq ft of Spectrum Liquid Sound Deadening (3 coats)
18 Sq Ft of Luxury Liner Pro Mass Loaded Vinyl (Adhered with bolts and industrial strength black silicon)
Accessories: Spray Gun + Bottle, Fury Knife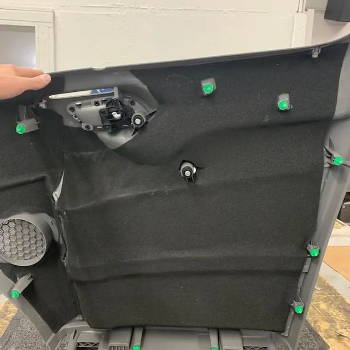 2017 Sprinter Door Panels
Type of Project: Door Panel Decoupling
Products Used: 14 sq ft of OverKill Closed Cell Foam (2 door panels)
Accessories: Spray Adhesive (1 Can)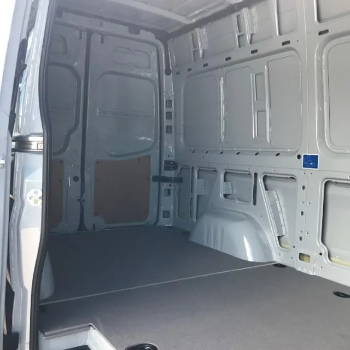 Sam's 2019 Mercedes Sprinter Van was bare bones before his project began.
This Sprinter Van took (4) 5 Gallons of Spectrum to cover the floor, walls and ceiling with (3) 1 mm coats.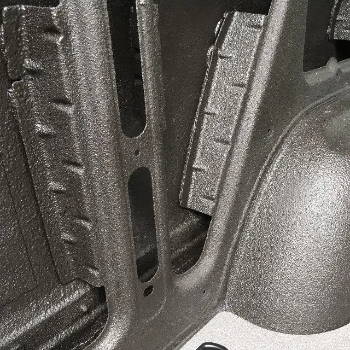 A nice complete viscoelastic membrane across the entire van metal is key to cutting down on vibration noise and stopping heat transfer through the flimsy metal walls.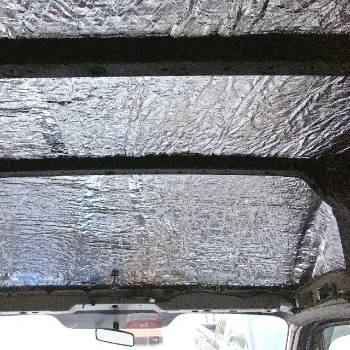 Sam chose the lightweight and high R Value Heat Wave Pro to thermally insulate his roof and also absorbing airborne sound.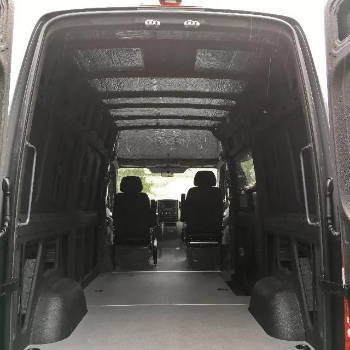 Sam's 2019 Sprinter Van took (5) 24 Sq Ft sheets of Heat Wave Pro and (3) cans of high temperature spray adhesive.