Featured Build: Mazda 6 Sound Deadening
2016 mazda 6 full vehicle SQ build
Every now and then Jeffrey has time between his full time job and installing car audio in customer's vehicles to work on his own masterpiece. His 2016 Mazda 6 Sound Quality build has the full Second Skin treatment from head to toe. Jeff ordered the Full Size Sedan Build Package with 80 sqft of Damplifier Pro (CLD) and 54 sqft of Luxury Liner Pro (MLV). Then added 36 sqft of OverKill Pro, 16 sqft of Mega Zorbe, 36 sqft of OverKill, and the Premium Hood Kit. Straight from Jeff...
"Second Skin has always taken care of me on all of my automotive sound deadening needs. This is yet another example. I was concerned with my paint longevity from heat and I had concerns about engine noise when I was doing some more spirited driving. Eric recommended that I use some Damplifier Pro and his new product Mega block to tackle this project. The Mega Nlock product was super easy to use. It cuts like a dream with a fresh razor blade and the adhesive is seriously impressive. Be careful, it sticks to fingers really well also.

The results were exactly what I was looking for. My engine noise was reduced and my hood temperature dropped dramatically regardless if it was just sitting in the sun or after my drive home. As always. Great products and customer service Second Skin."
For more information on a similar build, check out our article on Mazda3 sound deadening. Follow Jeffrey on Instagram to keep up with his journey with dozens of awesome builds! @jeffreyhald
2016 Mazda 6 Personal Vehicle Build by Team Second Skin member Jeffrey Hald
Mazda 6 Hood before getting the Second Skin treatment. Jeff used Tesa Tape to mark off the areas and create templates to cut material correctly.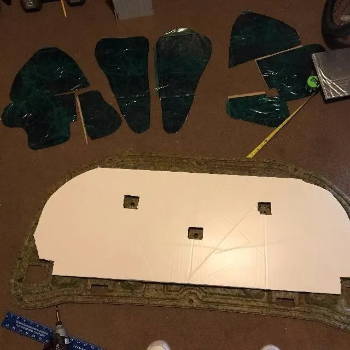 Prepping makes for an easy install. Jeffrey has the Damplifier Pro cut to fit inside of the hood's recesses and the Mega Block cut to fit perfectly under the factory liner. A+ prep work.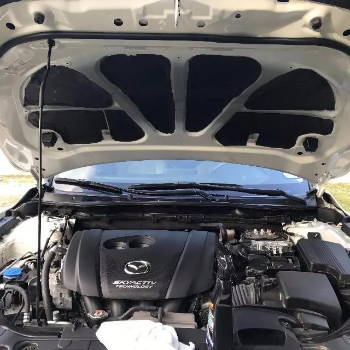 The pre-cut pieces of Damplifier Pro fit like a glove. Super easy install.
Next up is the thermal layer, Mega Block has a 1,000 degree F heat shield on it to reflect heat away and thermally insulate the hood. The 1/2' Melamine foam under the heat shield is absorbs a huge percentage of mid-to-high frequency sound waves. Finally, the high temperature PSA backing on the Mega Block will hold strong through the years. It works best when applied to a clean metal surface, pushed on nice and hard with our wooden roller for a strong bond, and lined on the edges with our high temperature foil tape. Everything you need is included in the Premium Hood Kit.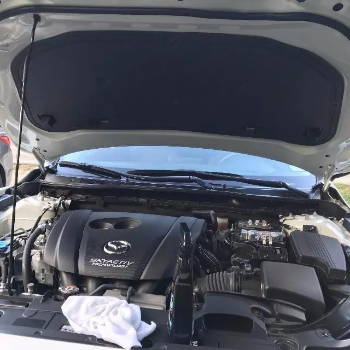 Factory hood liner placed back on over top of the work and no one is the wiser of the premium insulation hiding underneath. Well... Jeffrey knows...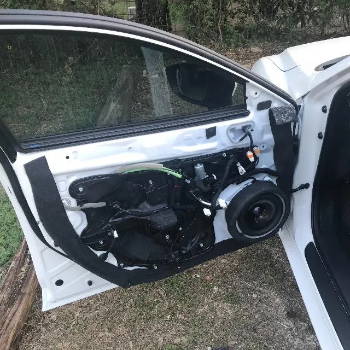 Along with Damplifier on the inner skin of the door, Jeffrey likes to use our OverKill closed cell foam to tighten up his door panel gap areas along the edges. OverKill works great at decoupling hard surfaces like your door panels.
Jeffrey has done some testing and found that using our OverKill CCF as Speaker Rings will outperform the other stiffer Speaker Ring options that you can buy pre-cut. Jeffrey knows his stuff, as he tests materials repeatedly until he gets the acoustical results he is looking for in his builds. Beautiful work sir.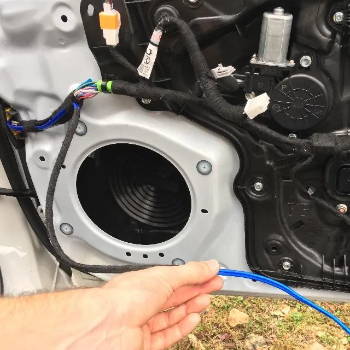 Before placing new door speakers in, slap in a Speaker Tweaker anechoic pad to redirect those noise canceling back waves. Speaker Tweakers will ensure that you don't lose 25% of your music to back wave cancellation. Super easy DIY upgrade.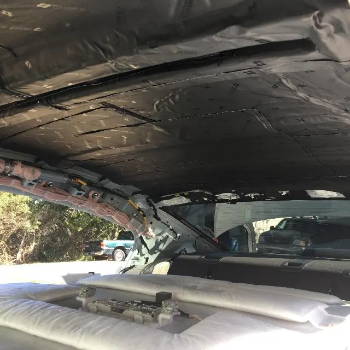 With SQ and SPL builds, the roof is a #1 spot to strengthen up. You have to stop the flex. Damplifier Pro is the solution you need to rescue you and improve that sound quality.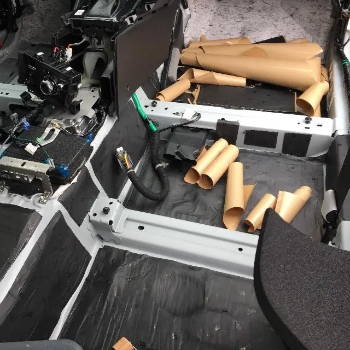 Damplifier Pro added to the floor of the Mazda 6 to stop heat transfer and absorb those vibration waves. Nice work! You can also see Jeffrey start to place OverKill Pro strategically throughout his car to decouple surfaces and stop annoying panel vibrations.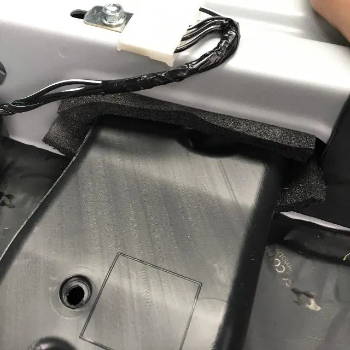 The devil is in the details. Jeffrey uses OverKill and OverKill Pro closed cell foam as well as anyone we know. Strategic placement throughout your build will decouple panels and pieces that rattle. If you have an eye (and an ear) for finding the trouble spots, you can stop them all in their tracks.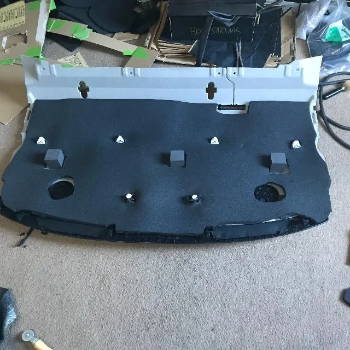 When making an SQ vehicle you need to use a variety products strategically to get the best acoustical response, 3/8" OverKill Pro closed cell foam is Jeffrey's go-to material for panels.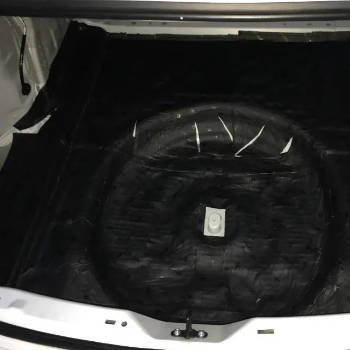 With any sound system, you can't cut corners in the truck. It's absolutely key to strengthen the metal surfaces to fight the flex of the sound pressure waves.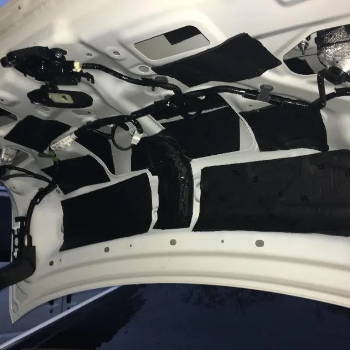 Prioritize good Damplifier Pro coverage for the trunk lid as well. The trunk lid is also a good place for some strategic closed cell foam use to keep the wires from flapping against the metal.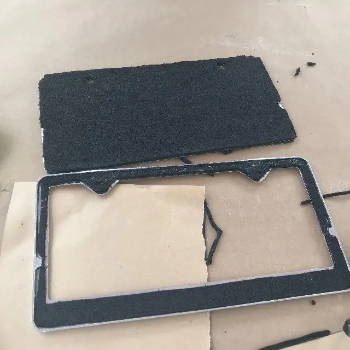 Last, but certainly not least... treat those license plates! Nothing ruins the sound of an awesome system faster than the back plate slapping against the car. Stick some Damplifier Pro and OverKill Pro on the back and BOOM, no more "aluminum can in bag" sound banging back there.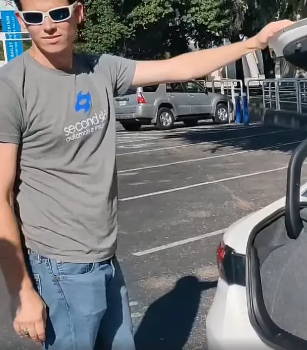 More Mazda Sound Deadening Projects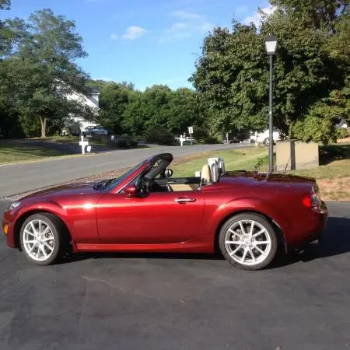 2010 power hard top
Type of Project: Hood Insulation
Products Used: 14 sq ft of Damplifier Pro Deadener
16 sqft of Mega Block Thermal Insulation
Accessories: Wooden Hand Roller, Foil Tape, Fury Knife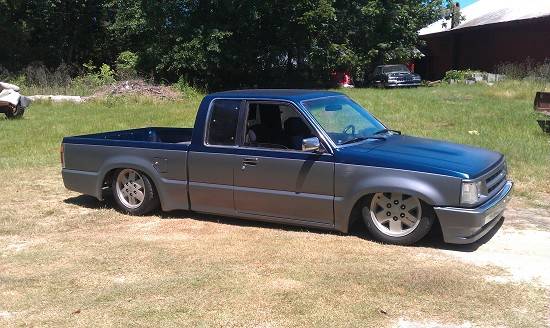 1991 b2200
Type of Project: Cabin Area
Products Used: 48 Sq Ft of Damplifier Pro Deadener (Floors/Doors/Back Wall)
32 Sq Ft of Luxury Liner Pro automotive MLV (Floor/Back Wall)
16 Sq Ft of OverKill Pro Closed Cell Foam (Doors)
Accessories: Spray Adhesive (2 cans), Speaker Tweakers,Wooden Hand Roller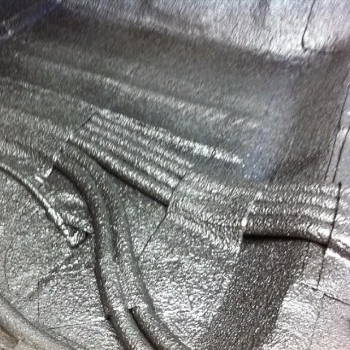 1986 RX-7
Type of Project: Floor and Hatch Floor Soundproofing
Products Used: 40 sq ft of Spectrum Liquid Sound Deadener (Floor/Hatch Area)
Accessories: Spectrum Spray Gun, Bottle, Plastiwrap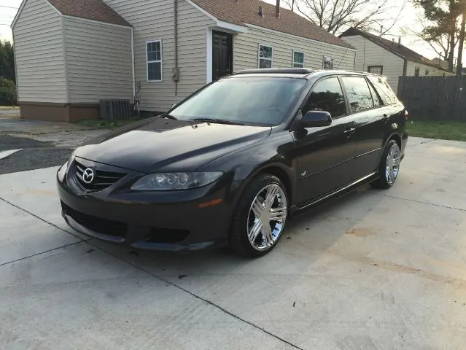 2002 Sport Wagon
Type of Project: Full Interior Soundproofing
Products Used: 114 sq ft of Damplifier Pro Deadener (Floor/Doors/Ceiling/Cargo Area)
72 sqft of Luxury Liner Pro (MLV)(Floor/Doors/Cargo Area)
42 Sq Ft of Mega Zorbe Melamine Foam (Ceiling)
Accessories: Spray Adhesive (2 cans), Wooden Hand Roller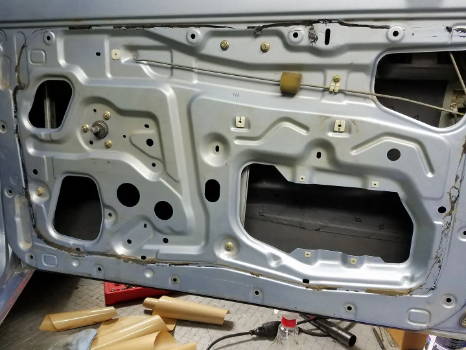 1991 B2600i
Type of Project: Car Door Sound Deadening
Products Used: 14 sq ft of Damplifier Pro Deadener (Outer Door Skins)
Accessories: Wooden Hand Roller
2017 Mazda 6 Full sounproofing
Jeffrey H is at it again with another Mazda 6. This time it's a customers vehicle looking for the full, head-to-toe Second Skin treatment. It's round 2 on the same vehicle, so this one should be a breeze right? Knocked it out of the park!!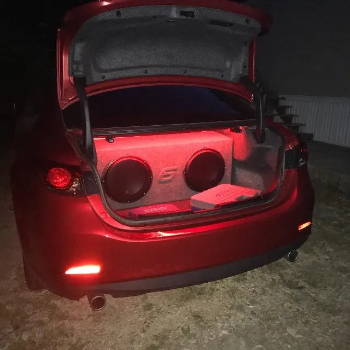 Mazda 6 trunk view with light up subs... very nice!!!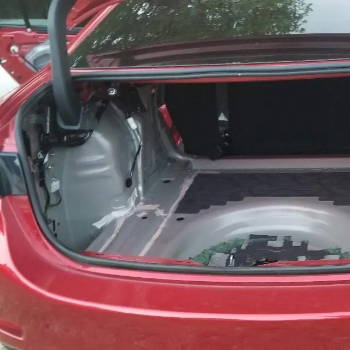 Mazda 6 trunk before all of the high quality American made Second Skin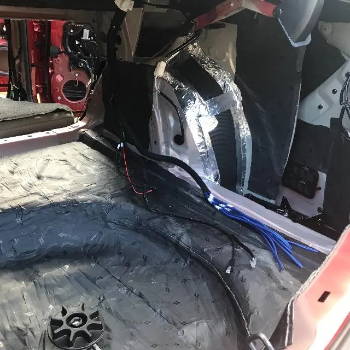 It's coming to life while getting more dead! (bad joke?) Just took 30 sqft of Damplifier Pro on the trunk and wheel well humps.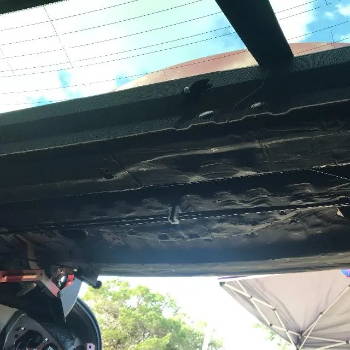 Mazda 6 rear deck with about 8 sqft of Damplifier Pro to kill the vibrations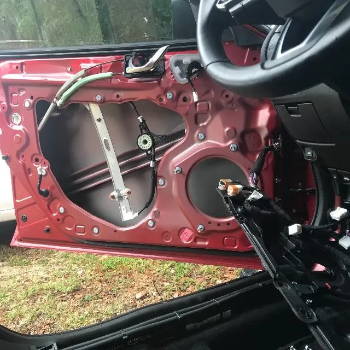 Mazda 6 doors before the Second Skin goes in. The metal was just washed with denatured alcohol.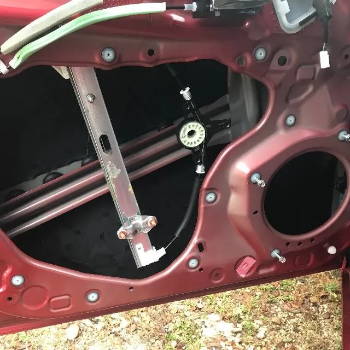 It's so fresh and clean looking with that Damplifier skinned on the outer door skins. No tacky billboard logo to be found.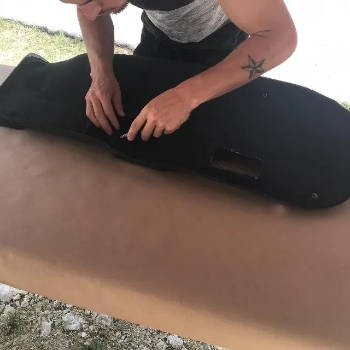 Next up is about 8 sqft of OveKill on the door panels. Jeffrey is all about that closed cell foam.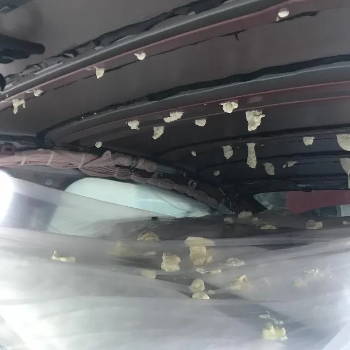 Mazda 6 ceiling before the Damplifier Pro goes in. Jeffrey used our Damplifier Butyl Tape on the roof brace welds to reinforce them before applying the sound deadening.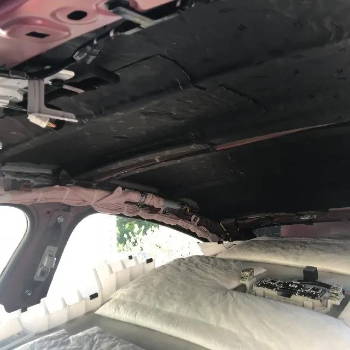 About 22 sqft of Damplifier Pro on the ceiling to stop the flex and strengthen the flimsy roof metal.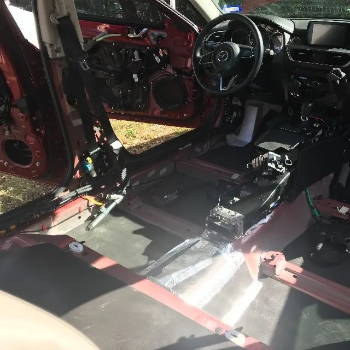 Finally, the floor gets about 35 sqft of Damplifier Pro followed up with 36 sqft of Luxury Liner Pro to block out the exhaust and drive train noise below.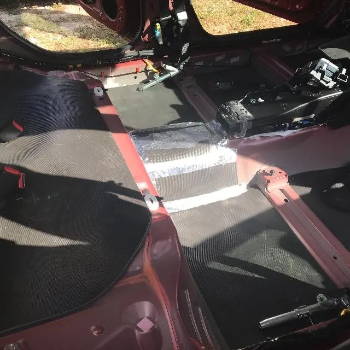 Rear seat floor area after about 14 sqft of Damplifier Pro and 18 sqft of Luxury Liner Pro mass loaded vinyl to block out those unwanted airborne noises.