Getting the perfect location for your new sound absorbing panels can become complicated, but in most situations it doesn't have to be. If you've got a typical room, some quick advice is really all you need.
Getting the perfect location for your new acoustic panels can become complicated, but in most situations it doesn't have to be. If you've got a typical room, some quick advice is really all you need.
Location, Location, Location... for Acoustic Panels
What Does a "Typical Room" mean?
By a typical room, we're talking about a small or medium sized room where the primary noise is people talking. This means that:
The room is not really big or really tall. For large rooms (>400 sq ft) and very tall rooms (>12 ft), or rooms with a very high ceiling, different rules apply

The room doesn't have highly specific acoustic requirements.

A recording studio may be small, but reverberation times are expected to be lower and target placement of acoustic panels makes a difference.
Place Acoustic Panels on the Upper Half of the Wall
We recommend installing panels on the upper half of the wall, just like you would a piece of art of framed picture. This strategy is both functional and practical. Functionally, sound moves very fast and tends to go upwards. Panels above the middle of the wall will be there to absorb it.
Practically, panels higher up on the walls won't get hit by chairs, carts, hyperactive puppies, or anything else that is low to the ground. Less abuse will mean your fabric wrapped acoustic panels will last longer. It'll help keep them clean and looking A+.
Install Your Acoustic Panels on Two Adjacent Walls
You should have panels on at least two adjacent walls. If you have lots of obstacles so need panels on 3 or 4 walls to get the recommended coverage, great - do that. Or maybe you just like the way the panels look on 3 or 4 walls, also great.
The key to good acoustical performance is to know how many acoustic panels you need and place them well. A good start is to have coverage on two adjacent walls (NOT parallel walls). Anything less and you're taking a hit to your sound absorption performance.
Space out Your Acoustic Panels
More spacing is better. Don't cluster your acoustic panels all together. We like to see 12" of space between panels, but we won't give you side-eye until you get closer than 3" or so.
Once you know where on your walls you want to install your sound absorption panels, read about how to install acoustic panels on a wall using the Rotofast Snap-On Anchoring system.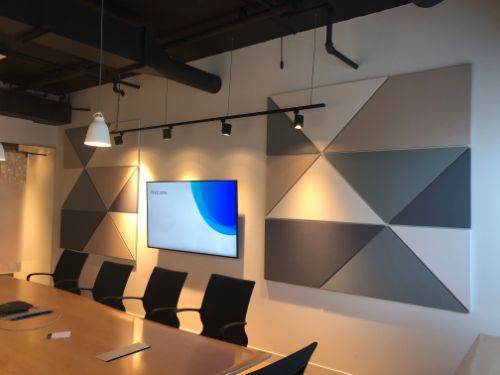 The exception to spacing out your panels is if you decide to prioritize an awesome design like in this conference room. Sometimes it's worth giving up a little performance for a wall that looks this good.
Specialty Rooms: Acoustic Consultation Needed
In some rooms, acoustic panel placement can get complicated. There's a concept in acoustics called the first angle of reflection that is really important in recording studios or any room where you have a speaker talking to an audience. For more information on acoustic panel cost, read our article on the topic for a thorough breakdown.
If you have a room that's not typical, you think you need customized acoustic materials for walls, ceilings or other parts of your space and you want to get a free consultation for your project, give us a call (1-800-679-8511) and we're happy to discuss the needs of your specific room.